Fictorum Update 22 - New Badass Wizard Spells and iFest Wrap-up
This page is one of the Dev Logs for the Fictorum development track as published by Scraping Bottom Games.
Howdy, fellow wizards! We've put in maximum effort over the last few weeks to make ready the most fun (and stable) build of Fictorum we've yet seen. As we're less than a month from our Kickstarter date, we couldn't be happier with that. In this post, we'll be talking about some of the awesome, badass spells that we've added into Fictorum, two new maps, a new building that Leif has put together, and a wrap-up of our time at Seattle iFest.
Here are three of the newest spells that we've either reworked or are completely new for our favorite wizard.
A slow-moving ball of super-concentrated fire, capable of incinerating anything it touches. This video also shows the new overkill effect (which occurs when an enemy has received enough damage to kill them twice) for fire spells that Chip added.
Enemies caught within reach of Flame Strike are exposed to a white-hot flash of heat, causing a moderate amount of initial damage, and setting them aflame (which, one could imagine, causes a crap-ton of extra damage).
This classic spell will assault enemies with extreme cold, slowing their movement and attack speed, or possibly freezing them completely.
If you'd like to see more of the spells in Fictorum, check our Spell Showcase:
Greg created on two new levels which have been added into the game. One features a dark and swampy environment with a small, poor village; the other is a verdant tileset with a decent sized town.
Leif constructed a new building for us to fill out our towns: The tavern! It's an integral point for so many great fantasy adventures, and we can't wait to start using this in our own story. Chip will be working on destruction and props over the next week, so that the building will have a bit more life and more satisfying destruction.
The Scraping Bottom Games team had a great time at Seattle iFest! We had a steady stream of visitors to our booth, and consistently had someone new experiencing Fictorum throughout the day. We were really thankful that we were able to have two machines up and running; both computers got a lot of use. We're also grateful for the excellent feedback that our players gave us, several of their suggestions are already implemented in-game!
We even had some people enjoy the game so much that they came back to play a second round, which was deeply fulfilling. We've been working tirelessly over the last year and, as indie developers, it's easy to get sucked into what doesn't work and what still needs to be implemented. iFest showed us that, though we still have a ways to go until we're finished, the game that we have right now is a boatload of fun to play, which is really what it's all about.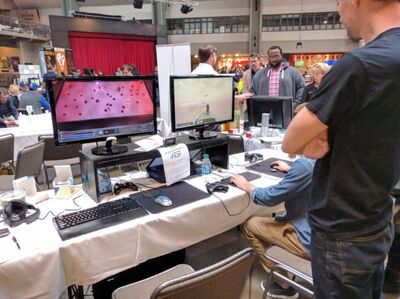 Prettier game settings
Improved tutorial
Improved hovering tooltips in inventory
Mouse click movement for runes implemented (as opposed to solely drag-and-drop)
More stable performance
New main character near completion
Here are a couple of great moments from last week's Twitch stream:
We'll be hosting another Twitch stream on Tuesday, May 31st at 8pm. Come check out how Fictorum is progressing!
Our plan for development over the next few weeks will be to:
Improve storm-type spells
Finalize and implement the new main character model
Fully implement the new tavern
Fix all show-stopping bugs